Webanalytiker.dk skriver på kommunikationsforum
Webanalytiker.dk skriver om måling af nyhedsbreve på kommunikationsforum.dk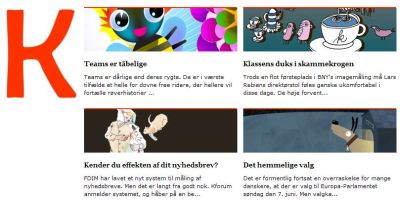 Så er webanalytiker.dk klar med endnu en artikel til kommunikationsbranchen. Denne gang omhandler det måling af nyhedsbreve, herunder hvordan FDIM´s nye nyhedsbrevsmålingssystem måske ikke helt måler det mest værdifulde.
I artiklen omtaler jeg at der er to sider af en måling når det drejer sig om nyhedsbreve:
Kendskab til brugen af selve nyhedsbrevet
Kendskab af brugen af sitet på baggrund af nyhedsbrevet
Den første gruppe vedrørende brugen af selve nyhedsbrevet omhandler målinger som
Hvor mange sendes nyhedsbrevet til?

Hvor mange får rent faktisk nyhedsbrevet i deres indboks (dvs. antallet, det sendes til, uden de mails, som bouncer pga. ugyldig mailadresse eller andet)?

Hvor mange åbner nyhedsbrevet?

Hvor mange gange klikkes der på de forskellige links i nyhedsbrevet?
Det er alt sammen målinger af elementer, som sker VÆK fra ens website, nemlig i en mail indboks.
Den anden gruppe omhandler, hvad der sker, når en bruger har klikket på et link og kommer til ens website. Det er fx:
Hvor mange besøg genererer nyhedsbrevet i alt?

Hvor mange forskellige brugere besøger sitet på baggrund af nyhedsbrevet? (Nogle klikker på et link i nyhedsbrevet, lukker sitet ned, klikker på næste link, lukker sitet ned, osv., og vil på den måde tælle som flere besøg og klik. Det renses der for i dette, og man ser, hvor mange personer der rent faktisk besøger sitet på baggrund af nyhedsbrevet).

Hvor mange sidevisninger bliver der i alt genereret på baggrund af nyhedsbrevet? Her menes ikke kun, hvor mange der læser præcis den artikel eller produktbeskrivelse, der blev linket til i nyhedsbrevet. Nej, her menes alt i alt. Dvs. hvis brugerne klikker på et link i nyhedsbrevet og browser videre i samme besøg og når at se tre sider hver, så vil 1.000 besøg samlet set give 3.000 sidevisninger.

Udfører brugerne nogen værdiskabende handlinger på dit site på baggrund af et besøg fra nyhedsbrevet? Det kan være brug af "Tip en ven" eller tilmelding til andre tjenester.

Den ultimative værdiskabende handling er selvfølgelig et salg. Hvor mange har købt i et besøg fra nyhedsbrevet?

Præcis hvilke produkter og produktkategorier der blev solgt på baggrund af præcis hvilket link i nyhedsbrevet

Test af, hvad der fungerer godt og skidt i nyhedsbrevet. Test et stort produktbillede op mod et link med teksten "KØB HER". Eller måske du bør teste om "Køb nu" virker bedre end "Køb allerede i dag". Test ikke kun, hvor mange der klikker, men også, hvor mange der går hele vejen og køber.

Eller test to helt forskellige nyhedsbreve – lav to versioner og se, hvilken version der gav flest sidevisninger og salg = størst omsætning.
For mig er der ingen tvivl om at del 2 er absolut mest værdifuld for websites. På trods af en lidt vedvarende kritik af Gemius Traffic, så er jeg sådan set ikke ude på at kritisere dem. Jeg synes blot det er utrolig ærgeligt og surt for alle FDIM´s medlemmer at de ikke oplever hvor mange muligheder der er for webanalyse og webstatistik (der er stadig sites, som KUN har Gemius Traffic implementeret, fx dmi.dk, FDIM.dk og større mediesites). Dermed håber jeg at konstruktiv kritik kan bidrage til at løfte niveauet af systemet, således at udviklingen af mulighederne intensiveres og fokuseres.
I forlængelse af indlægget på Kommunikationsforum har jeg desuden forfattet et indlæg om hvordan man opsætter måling af nyhedsbreve og kampagner i Google Analytics.
Læs indlægget om Nyhedsbrevsmåling på Kommunikationsforum
Relaterede indlæg
Kommentarer (0)