Adwords og Analytics integrationen forøges
Adwords og Analytics integreres mere og mere
Google kom i nat med en række rigtig spændende nyheder, som ikke blot er spændende nyheder, men også understøtter det der er sket den seneste måned.
Overordnet set arbejdes der mere og mere for at gøre Google AdWords og Analytics mere sammenkædet, hvilket er fantastisk når du for alvor skal analysere og optimere dine kampagner. Det er både her du bruger penge, men samtidig også her der er gode muligheder for optimering.
Dagens spændende nyheder kommer til sidst i indlægget – og vil du ikke vente og først læse baggrunden, så scroll ned med det samme

Ny AdWords certificering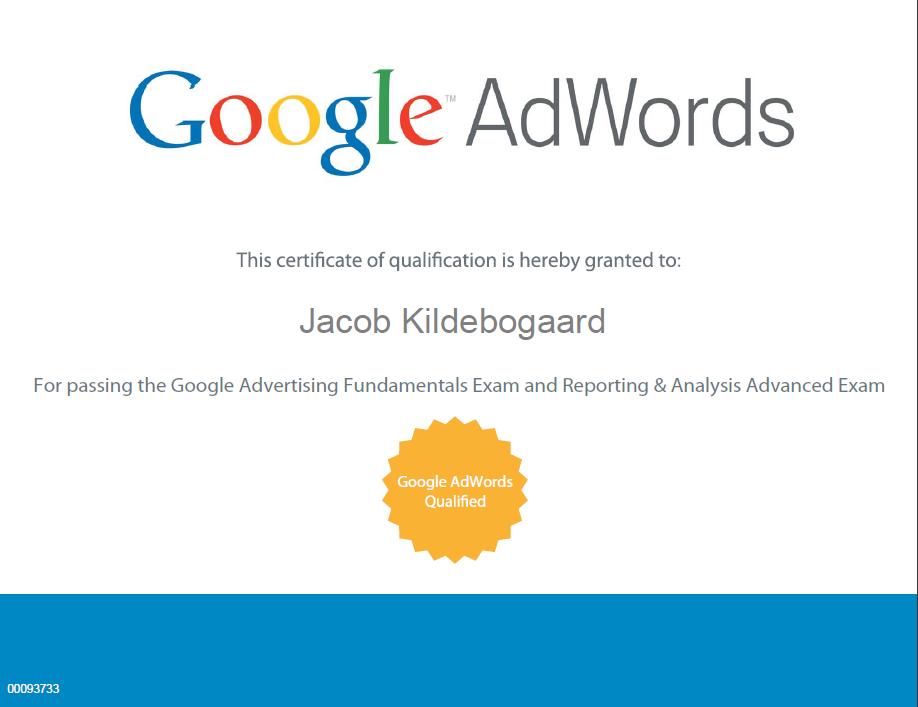 I slutningen af april justerede Google AdWords certificeringen. Jeg kan se tre grunde til det:
Det var blevet for let at certificere sig – nu skal der to test til: Basic og en avanceret
Der skulle laves et partner program for virksomheder, som det gamle GAAC program (Partner program for Analytics)
Certificering og partner struktur skal være ens med Google Analytics
Som avanceret test kan man vælge mellem flere forskellige så man udmærker sig indenfor sin spidskompetence. Jeg certificerede mig efter den nye ordning i søndags, og det er blevet sværrere, men også utrolig lange og kedelige test. Jeg tog 220 spørgsmål på 4 timer, og var døden nær til sidst.
Du kan læse mere om den nye Adwords Certificering på Adwords bloggen.
Analytics partnere ikke længere GAAC
Partner programmet for Google Analytics hed tidligere Google Analytics Authorized Consultant – GAAC, men er nu omdøbt til Google Analytics Certified Partners. Selve programmet og kravene er de samme som tidligere. Et navneskift der klart er til for at ensrette de to programmer – og her har Google udfordringer med at Adwords og Analytics begge starter med a

Læs om ændringen på Google Analytics bloggen.
Adwords Search funnel endelig tilgængeligt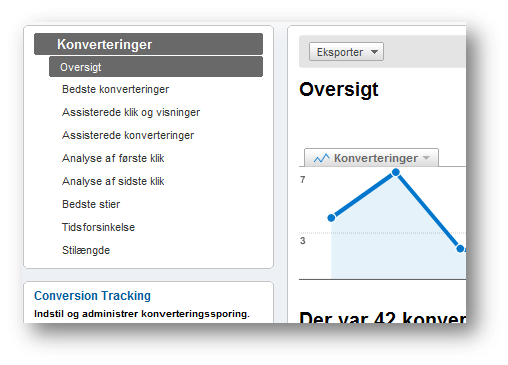 I marts skrev jeg om den nye AdWords Search Funnel, og fra i dag er den tilgængelig i din Google AdWords. Det er vildt fedt, og giver en masse muligheder. Læs mit indlæg om AdWords Search Funnel.
Det næste spørgsmål: Hvordan finder jeg rapporten? Log ind i din AdWords konto. I menupunktet "Rapportering" vælger du "Konvertering". I venstre side står der nu Søgekøbprocesser. Klik her, og du har nu adgang til alle de nye rapporter. Du skal dog have sat konverteringer op for at kunne tilgå data. Har du ikke allerede implementeret det, så er der masser af grunde til at komme i gang.
Flere AdWords rapporter i Analytics
Dagens helt fantastiske nyhed – der kommer meget bedre mulighed for at analysere AdWords i Google Analytics. Der kommer flere menupunkter, langt bedre muligheder for at bryde data ned, og samtidig slipper vi for at lave "hacks" for at få de rigtige søgeord ind i Google Analytics (hvad brugerene rent faktisk søgte på ved brede søgeord).
De ekstra rapporter viser at Google træder et ekstra skridt ind i integrationen mellem deres produkter. Analytics er til for at optimere AdWords, og nu skal det være muligt i langt højere grad. Så fremover har du ikke brug for en AdWords ekspert, men en analytiker…
Se videoen fra Google, der viser de nye muligheder her (de første 35 sek er kedelige – bagefter kommer guf):
httpv://www.youtube.com/watch?v=Hip0_I2K2z8&feature=player_embedded
Google Analytics application galleri
Efter Google Analytics API´et blev frigivet er der kommet flere og flere interessante applikationer rundt i verden. Google har samlet en håndfuld og lavet et galleri. Tjek det ud på http://www.google.com/analytics/apps
AdWords data i dit Analytics API
Fremover kan du trække dine AdWords data ud via dit Analytics API. Du behøver altså kun tilgå systemet et sted fra. Det er rigtig interessant af fire grunde.
Du kan få alle data et sted fra
AdWords API koster – det gør Analytics API ikke.
Andre værktøjer kan bruge data fra begge systemer. Det rummer ubegrænsede muligheder for at se brugernes adfærd ud fra enkelte søgeord, søgeordstyper mv. Det bliver utrolig spændende at følge fremover.
Og formentlig mest interessant af det hele – det viser at Google nu kan samkøre alle data. Jeg er mere analytiker end tekniker, men det bør være let at integrere alle data på tværs af systemerne. Hvilket vi først så med Analytics mål i Adwords og nu med udvidet Adwords menu i Analytics.
Asynkron kode gøres til standard
Google Analytics lancerede en asynkron kode, som er hurtigere og mere præcist. Det spænder i tråd med påvirkningen af sitets søgemaskineplacering i forhold til sitets loadtid. Dagens nyhed er at det nu kommer ud af beta og gøres til standard koden. Flere blogindlæg har testet hastigheden, og i størstedelen af tilfældende viser det sig at den asynkrone kode ER hurtigere.
Bemærk: Hvis du skifter koden ud til den asynkrone, så er det ikke nok at skifte grundkoden, alle ekstra implementeringer (eventtracking, e-handel, virtual pageviews etc) skal også justeres og tilpasses den nye kode.
Se Google Analytics egen blogpost med nyhederne.
Fremtidige Google Nyheder
Dagens nyheder er fantastisk gode, dels pga. de nye muligheder, men også i form at Googles signal om at give de mange analyse-muligheder samt integrationen mellem værktøjerne.
Næste store nyhed fra Google bør blive om Website Optimizer. I dag kan du tilgå det fra AdWords men den eneste forskel fra at gå direkte til Optimizer er at du kan dele adgangen til testene. Nyheden fra Google bliver en langt større integration med Analytics. Formentlig begge veje. Se i din optimizer hvad bounceraten var på de to test, og et selvstændigt test-menupunkt i Analytics. JATAK, vi venter alle Hr. Google

Relaterede indlæg