Køn og Alder i Google Analytics og AdWords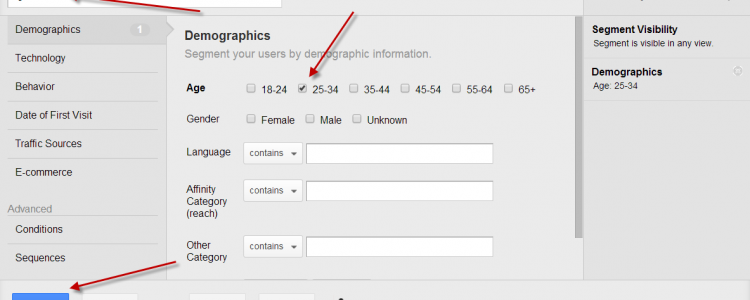 Så er der igen vilde nyheder fra Google, som absolut er banebrydende. Danske sites har nu mulighed for at se brugernes alder og køn i deres Google Analytics statistik. Yessir, det er RIGTIG demografi, og værdifuld input til optimering og annoncering. Det har optrådt i AdWords i noget tid, så du kan målrette annoncer ift. brugernes demografi, men du har ikke tidligere kunne få mere info om den del.
Og det er ikke det eneste!! Vi kan også se brugernes interesser.
Jeg vil gerne dele nyheden med dig, og forklare hvor du ser det, hvordan du analyserer og hvordan du får en enorm værdi ud af de data.
Få de spændende data!
Først og fremmest, så skal du have justeret din analyticskode for at du kan se data. Kodejusteringen er den samme der skal til for at kunne lave remarketing på baggrund af analytics data, så det har du måske allerede justeret. Hvis ikke, så er det om at få fikset med det samme. Det eneste du skal gøre er at ændre en linie i Analytics grundkoden. Se her hvordan.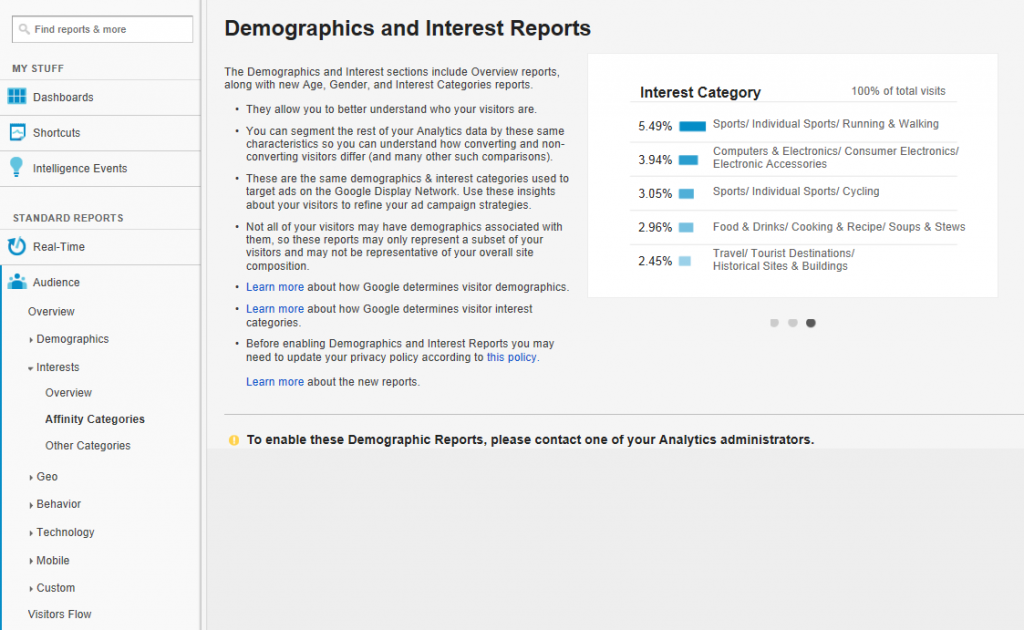 Når det er gjort skal du blot aktivere data i Analytics.
Derefter kan du se de spændende data under hhv. "Demografi" og "Interesser".
Analyse og optimering ud fra køn og alder
Lad mig vise hvorfor data er så interessante med et eksempel. Let som en leg kan få følgende rapport frem om brugernes alder:

Det er tydeligt at brugerne i aldersgruppen 25-34 år konverterer bedst – med hele 2,83% mod gennemsnittet på 1,98%. Gruppen står for 16% af alle besøg, så det er ikke en enorm gruppe, men værd at fokusere på med den høje konverteringsrate.
Jeg vil nu gerne lære mere om gruppen – er det mænd eller kvinder der konverterer bedst? Derfor laver jeg et segment, så jeg kun kigger på brugerne i gruppen 25-34 år. Segmentet skal opsættes således: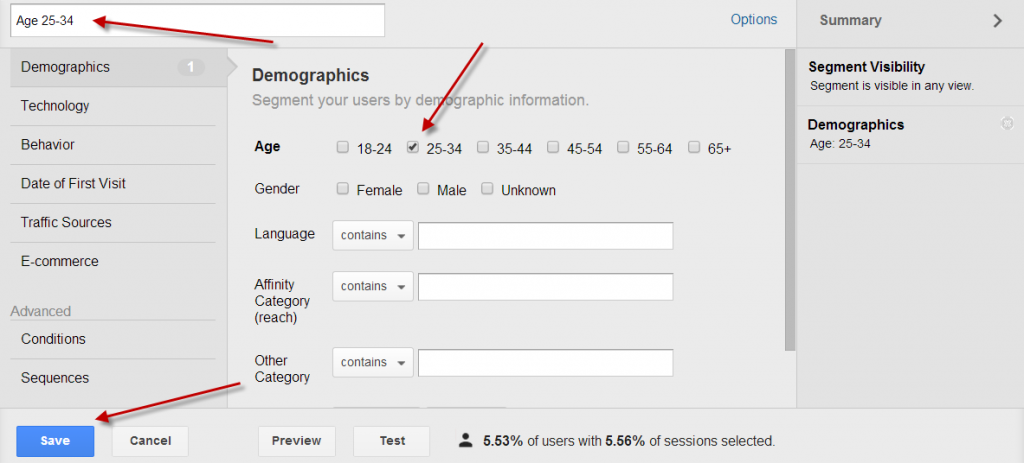 Nu kan jeg så kigge på rapporten for brugernes køn:

Det er nu tydeligt at mændene konverterer klart bedst. Det er ikke den største gruppe, men de mest interessante ift. konverteringsraten. Data er fra en shop, der primært henvender sig til kvinder (dametøj), så det tyder altså på at de yngre mænd (jeg er stadig i samme aldersgruppe, så jeg må lægge vægt på at det er UNGE folk) køber gaver til deres kæreste/koner.
Og hvad har vi så lært? To ting.
1. Shoppen sælger bedst til den yngre del af Danmarks befolkning.
2. Mændende i aldersgruppen står ikke for en stor andel, men de skal tages meget seriøst, for de er købevillige i langt højere grad en gennemsnittet.
Få værdi ud af data – målret AdWords annonceringen
Det er ikke nok at få lidt mere viden, vi skal også tjene penge på det. Og her er det at jeg skal have servietten frem til at tørre øjnene, for det er virkelig smukt. Vi kan nemlig målrette display annoncer i Google AdWords mod præcis den målgruppe vi har lyst til.
Vi ser altså at mænd i alderen 25-34 år konverterer rigtig godt. Derfor sætter vi en kampagne op i AdWords, hvor vi kun målretter mod præcis denne gruppe. Vi skal selvfølgelig teste nogle flere målgrupper af også, måske konverteringen ikke er fordelt på samme måde når det er trafik fra AdWords display annoncer – men det er i allerhøjeste grad værd at teste.
Hvad er affinity grupper / relationskategorier?
Under "Interesser" ser du relationskategorier. I AdWords kan man målrette ift. brugernes interesser. Der er pænt mange forskellige og det kan være lidt uoverskueligt. Som omtalt i mit indlæg om nyhederne omtalt til Think Digital konferencen i Dublin, så har de derfor grupperet brugerne i interesse-grupper. En bruger der viser interesse for shopping, kosmetik, børnetøj og legetøj er ganske givet en kvinde med børn. Så Google har grupperet brugerne ud fra kombinationen af interesser, så vi har en form for arketyper, frem for at skulle rode rundt i alverdens kategorier.
Vi kan på fuldstændig samme måde se hvilke kategorier/grupper, som konverterer og målrette annonceringen mod dem. Denne del har jeg dog ikke set data på i Danmark endnu, men det er uden tvivl undervejs.
Er data korrekte?
Et relevant spørgsmål, jeg allerede har fået en del gange: Er data korrekte? Mit svar kan deles op i to:
1. De er ganske korrekte i alle de eksempler jeg har lavet. Kun 1 gang har jeg set at køn var forkert, og aldersgruppen har en tendens til at være korrekt eller en gruppe ældre end brugeren egentlig er
2. Jeg er faktisk relativ ligeglad
Ser vi bort fra at få viden om brugerne og målgruppen, og kun fokuserer på annonceringen, så er jeg faktisk lidt ligeglad med hvor præcise data er. Sagen er nemlig at Googles opfattelse af brugerne er ens i Analytics og i AdWords. Så hvis mænd 25-34 år konverterer godt i Analytics data, så er det de samme godt konverterende jeg annoncerer overfor i AdWords. Og derfor er det lidt mindre vigtigt om data er korrekte – så længe jeg rammer den rigtige målgruppe.
Hvis du vil teste denne del, så kan du tjekke din egen profil ved at klikke på det første søgeresultat her
Google on fire
Dette er blot noget af det store der sker for tiden, fx er Google ved at sparke pricerunner og kelkoo godt ud af markedet med PLA og Merchant shopping område. Men mere om det på et andet tidspunkt.
Hvad synes du om de nye muligheder?
Køn og Alder i Google Analytics og AdWords

,
Relaterede indlæg