AdWords shopping annoncer – billedannoncer på Google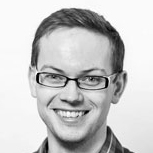 Der sker rigtig mange ændringer i Google AdWords for tiden, og det kan være svært at lure hvad der skal prioriteres og hvad de nye muligheder tilbyder. Jeg har derfor inviteret min kollega i Webjuice.dk Mr. Kent Nygaard Christensen indenfor på webanalytiker.dk, og forklare mere om Google Shopping kampagner i AdWords – og hvorfor du skal bruge tid på at lave shopping kampagner i stedet for PLA-kampagner. Vi har absolut god erfaring med billedannoncerne i AdWords, så det er et område du bør prioritere at få sat op, både hurtigt og bedst muligt. Kent arbejder som AdWords konsulent og bruger al sin arbejdstid på at skabe mirakler med AdWords kampagner.
Her er et eksempel på en Google AdWords Shopping annonce – kan du se pointen i at få den placering?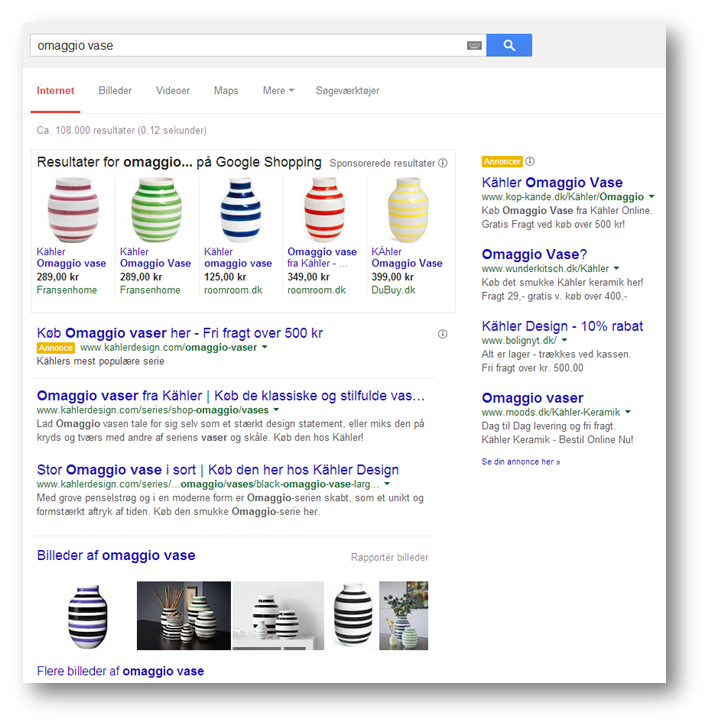 Og nu til Kents indlæg:
Derfor Google AdWords shopping annoncer
Google Shopping Kampagner har nu været tilgængelige for alle siden midten af februar. Vi har efterhånden alle lært og hørt om PLA – Product Listing Ads men efter blot 3 måneder ude af beta er det nu ændret til Google Shopping Ads.
Her får du en gennemgang af, hvad der er nyt og hvordan det så opsættes. Men hvorfor overhovedet skifte fra PLA? Fordi PLA kampagner bliver udfaset og fordi, Shopping kampagner giver dig langt mere data at vurdere performance, hvilket også gør det muligt at lave kvalificeret optimering. Når der er tilstrækkeligt med data på dine kampagner, kan du få oplyst gennnemsnits CTR og CPC hos alle annoncører og dermed sammenligne disse med din egen performance. Du kan også se din visningsandel og budsimulatoren, som vi kender fra søgekamapgner vil også blive tilgængelig.
Strukturen i Google Shopping Ads
Google Shopping Kampagner er en ny kampagnetype, som du kan vælge i AdWords interfacet på lige fod med søge- og displaykampagner mm. Strukturmæssigt adskiller de sig markant fra alle andre kampagner ved kan at indeholde "produktgrupper" i stedet for annoncegrupper. Disse dannes ud fra PLA feedet.
"Produktgrupper" kan bestå af op til syv lag, hvor hvert lag benytter hele eller dele af en attribut fra dit PLA feed til at gruppere dine produkter. Attributterne er: Category, Product type, Brand, Id, Condition, Custom labels. Custom labels (max. 5) erstatter AdWords Labels og AdWords grouping. Som navnet indikerer, er det labels, som du selv bruger til at gruppere produkter med fælles træk, der ikke allerede er grupperet via de øvrige attributter. Fx kan dette være opdelinger efter performance. Du kan samle dine bedst sælgende produkter, produkter med højest avance, produkter der sælger bedst om sommeren. Dette er nyttigt, når man vil byde strategisk i forhold til, hvad man ønsker at give for klik på sine shoppingannoncer.
Man er meget godt kørende, hvis man opretter én shopping kampagne og lader den tage over for eventuelle PLA kampagner, som man i så fald pauser. Hver kampagne indeholder – modsat PLA og øvrige kampagner- kun én promoveringstekst (annonce). Så selvom man laver en kompleks struktur, vil man ikke kunne opnå unikke promoveringstekster pr. kampagne uden en skulle opdele yderligere (læse mere op opsætning med flere kampagner nederst under "Kompleks opsætning").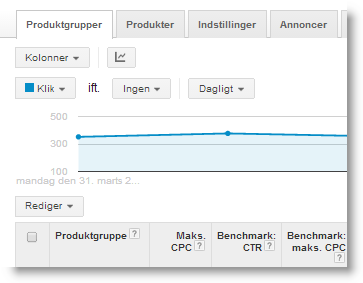 Nå man opretter Shopping Kampagnen har man som udgangspunkt en "Alle produkter" gruppe. Tryk på "+" til højre for denne for at opdele yderligere.
Opdeler du fx efter "product type" første gang, vil alle dine "produkttyper" nu udgøre 2. lag. Under hver produkttype kan man så fx vælge de "produktvaremærker" der hører til her (hvilket er defineret i feedet).
Byd strategisk
Når man har opdelt strukturen i de nødvendige lag, kan man begynde at byde strategisk. Start med det laveste bud til det bredeste filter: Alt andet i "Alle produkter" (findes i bunde af strukturen). Derefter sættes næstlaveste bud på alle "Alt andet i XX" i 2. lag. I eksemplet ovenfor vil det være under hver produkttype. Selve produkttyperne vil så få det tredje laveste bud og "Alt andet i XX" vil få fjerde laveste bud under hver "produktvaremærke" og så fremdeles. Det er vigtigt at forstå strukturen og, hvordan hver søgning bliver matchet med den mest specifikke gruppering. Man kan sætte mange Shopping kampagner op, med forskellig struktur, men et produktet kan kun medtages i én produktgruppe. Det vil i den enkelte kampagne være der, hvor man byder højst.
Kompleks Shopping kampagne opsætning
Ønsker du at lave flere AdWords Shopping kampagner eller at have Shopping og PLA kørende samtidig (hvilket dog ikke anbefales), så er det også muligt. Shopping kampagner har under "Indstillinger" to unikke Shopping-indstillinger.
Den ene er "Kampagneprioritet", der bruges til at prioritere PLA og shopping kampagner i forhold til hinanden. Ønsker du at køre shopping og PLA samtidig, SKAL din shopping kampagne have prioriteten "mellem" og vil så blive prioriterer over PLA kampagnerne uanset bud. Kører du flere shopping kampagne på samme niveau er det dine bud, der afgør, hvilken der bliver vist, hvis de indeholder det samme. Ønsker du at prioritere dine shoppingkampagner, kan du anvende hhv. "mellem" og "høj" til at bestemme Kampagneprioriteten.
Den anden unikke shopping-indstilling er "Beholdningsfilter" der er et filter lig dem, man bruger interne i shopping produktgrupperne til at opdele efter. På kampagneniveau bruges Beholdningsfilteret til at definere, hvad kampagne skal indeholde. Her kan du igen filtrere på dine attributter fra PLA feedet (Category, Product type, Brand, Id, Condition, Custom labels). Vil fx lave en kampagne kun med ét varemærke, kan du vælge dette. Eller det kunne være en produkttype – mulighederne er mange! Når dette er opsat, sættes disse specifikke shoppingkampagner op på samme måde som en generel ved at filtrere med mere specifikke attributter. GOD FORNØJELSE!
Indlægget her viser jo tydeligt at det ikke er helt simpelt når Google laver om på tingene. Så har du spørgsmål til Kent, så fyr løs i kommentarerne.
AdWords shopping annoncer - billedannoncer på Google

,
Relaterede indlæg