Analyticsbogen
Anmeldelser af dansk Google Analytics bog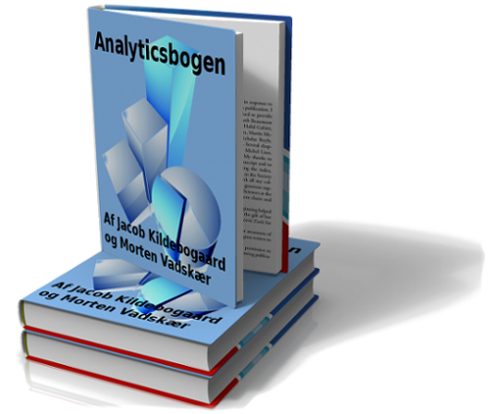 Siden den danske Google Analytics bog – Analyticsbogen – udkom d. 22. februar 2010 har der været megen omtale og skriven om bogen. Webanalytiker.dk bringer dig overblikket og links til alle anmeldelser, gode som dårlige.
Om Analyticsbogen
Bogen er skrevet af Webanalytiker Jacob Kildebogaard (manden bag bla. dette site) og Morten Vadskær (kendt som test-narkoman). To eksperter, med hver deres fokus. Jacob er akademiker, matematiker, konsulent, og har stor erfaring med Google Analytics. Morten er slutbruger, programmør, og har stor fokus på optimering. Sammen komplimenterer de hinanden, så bogen bliver fyldestgørende i alle emner.
Læs mere om Analyticsbogen.

Anmeldelser af Google Analytics bogen
Der er på nuværende tidspunkt skrevet fem større anmeldelser af bogen:
Analyticsbogen – et must buy!
…derfor vil jeg faktisk også kalde bogen for lettilgængelig, selvom den beskæftiger sig med noget, der ofte bliver opfattet som tungt, kedeligt og svært at have med at gøre.
Køb bogen, hvis du gerne vil have det maksimale ud af din hjemmeside og ikke føler dig helt hjemme i Analytics.
Læs hele anmeldelsen  hos Den Synlige Mand
Anmeldelse af Frank H. Madsen – Søgemaskineoptimerings rådgiver på De Synlige Sider.
Det fantastiske er til gengæld at Vadskær og Kildebogaard efterfølgende præsenterer guldkorn til hvordan dette kan give en direkte målbar forbedring af ens hjemmeside
…vil jeg sige at jeg er meget imponeret over bogen, og for folk der er seriøse med deres online markedsføring er bogen et must.
Læs hele anmeldelsen hos Mikael Hostrup
Anmeldelse af Mikael Hostrup, daglig leder i Azurex
…for jeg vil allerede nu sige, at det er BOGEN over dem alle, hvis du skal arbejde med analyse af din hjemmeside.
Stort set alle afsnit er lette at forstå – selv for ikke programmører som mig selv.
…om få måneder er der kun to slags eksperter på markedet: De, der har købt Analyticsbogen og de, der ikke vil indrømme det
Læs hele anmeldelsen på Thomas Rosenstands blog
Anmeldelse af søgemaskineoptimeringeksperten Thomas Rosenstand
En fantastisk god investering.
…så kan du lige se om det er noget for dig inden du køber, men det kan jeg næsten love dig det er, så vil da anbefale du bare får den købt, og det kan næsten kun gå for langsomt….
…Der hvor bogen går fra at være ok til super, er at du rent faktisk for en gang skyld ikke bare lærer hvordan du bruger Google Analytics, men også hvad du så rent faktisk kan bruge dine data til – og det er her værdien skabes, fordi hvis du ikke bruger dine data aktivt, hvad er det så lige du skal med dem?…
Læs hele anmeldelsen på Martin-nielsen.dk
Anmeldelse af Martin Nielsen, webansvarlig hos DVDOO og GUCCA.
Gør dig selv og din virksomhed den tjeneste at læse bogen, i får helt sikkert rigtigt meget ud af det og jeg er slet ikke i tvivl om at tiden der bliver sparet på at lave korrekt analyse, tjener de basseører ind som bogen koster
Her fra får Analytics bogen 5 ud af 5 stjerner
Læs hele anmeldelsen
Set på Twitter
Der har været stor aktivitet på Twitter omkring Analyticsbogen. Her er et par af kommentarerne:
@MortenKusk:
læs et kapitel til aften og start næste dag med en analyse – tag action inden kl. 10. Arbejdsgang der virker.
@brianbrandt:
En Marketing Manager for et større dansk tøjbrand/webshop vidste ikke man kunne tagge et link – køb Analyticsbogen, en ny verden åbner sig.
@henrik_andersen:
#analyticsbogen er godt skrevet og meget praktisk anlagt. Så der er virkelig value for money. Køb den før din nabo!
@Thomasjustesen:
Glæder mig til at læse Analyticsbogen, (den er købt) og sikker på at der er rigtig mange guldkorn i bogen
@Owix:
Hold da op, hvor er analyticsbogen af @vadskaer og @webanalytiker bare billig. Den skal man vist lige have :o)
@kjeldsen:
Har ENDELIG taget mig sammen til at sætte event-tracking på navigationen, takket være #analyticsbogen…
Analyticsbogen set andre steder
På Amino.dk er der også aktivitet omkring bogen. Se hvad andre mener, og deltag i debatten:
Første omtale af bogen med bl.a. følgende kommentarer:
Takker – den har allerede (enda i Light Udgave) løst et problem jeg har haft med tracking af javascript
En debat hvor der er lagt op til diskussion om bogen, med bl.a følgende kommentar:
…er jeg sikker på den er den bedste investering alle hjemmesideejere kan lave i 2010
Hent gratis Google Analytics bog
Der er en fantastisk rabat på Google Analyticsbogen. Faktisk så god at du ganske gratis kan hente en 78-siders light version. Hent light version.

Du kan også købe bogen med det samme så du slipper for at springe i din læsning, men få al indholdet med det samme. Køb Analyticsbogen.