Find og fjern døde AdWords link på ingen tid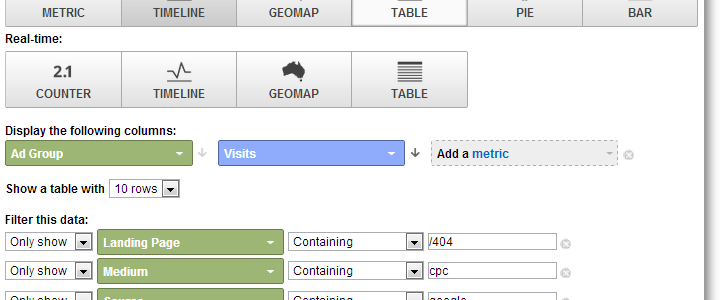 Torsdag holdt vi PPCBoost – en konference kun om AdWords. Undervejs blev jeg frygtelig inspireret med en masse, og samtidig gik det op for mig at nogle gennemgår samtlige annoncer for at se om der er nogle der fører til en fejlside.
Med et stort antal varenumre er det meget let at få døde links, fx hvis varen er udsolgt eller udgår af sortimentet. Men i stedet for at klikke på samtlige annoncer for at tjekke links i AdWords kontoen, så kan du sætte et dashboard op, der viser præcis hvilke annoncegrupper, der har givet klik til en død side.
Faktisk kan du sætte det op, så du får tilsendt en email når der er en AdWords annonce, der fører brugeren ind til en død side.
Gør du det rigtigt, så skal du kun bruge de 5 minutter på at justere links, frem for 3 timer på at klikke links igennem. Processen er simpel – spor dine 404 sider korrekt, og lav et dashboard med et par filtre. Opskriften kommer her.
Spor din 404 side korrekt
For at du kan arbejde effektivt, så skal du få styr på sporingen af din 404 side. Det handler om 1 ting: Du skal have et kendetegn ind i URL for din fejlside, fx /404. Jeg har tidligere skrevet et blogindlæg om netop dette, så læs her: Sådan sporer du 404 sider. Når du har dette på plads, så er du næsten i mål.
Segmenter dine 404 sider
Når du har gjort det, så er det fantastisk let. Der er blot to ting der skal være opfyldt, for at du får en liste frem:
1. Landingsside skal indeholde /404. Hvis du har brug en anden benævnelse i URL for fejlsiden, så skal /404 selvfølgelig skiftes ud med dette.
2. Medium skal være lig cpc (og kilde Google hvis du har andre CPC sporinger, fx Pricerunner eller Kelkoo).
Sæt dit dashboard op
Så er du ved at være der. Du har sporet dine fejlsider, og har styr på de 2-3 filtre der skal til. Så er det bare at tilføje en widget til dit dashboard!
Her er opskriften på dashboardet – vælg tabel med Annoncegrupper, og tilføj de angivne filtre. Vupti, så har du en tabel over hvilke annoncegrupper du skal ind og tjekke dine DestinationsURL´er på.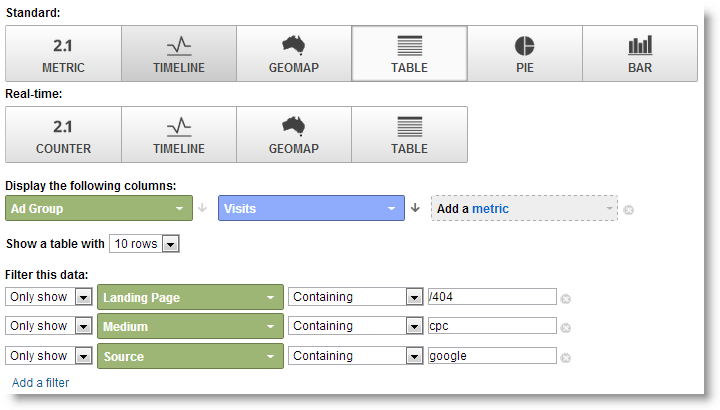 Et pro-tip:
Slip for at gå ind og tjekke hver dag. Sæt en alert op og bliv varslet hver gang du får et besøg til en fejlside fra AdWords, og du skal gribe til handling. Da der er lidt filtre, så skal du lave det som segment først. Segmentet skal have de samme filtre:

Når du har lavet segmentet, så skal du bare sætte en custom alert op. Så får du automatisk en email dagen efter, hvis der kommer et besøg ind på en 404 side fra AdWords:

DAMN, det er smart. Hvis jeg skal sige det selv

Guiden her er blot én måde at gøre det på. Personligt synes jeg det er superlet og overskueligt. Men som altid, så er det fantastisk at spise en burger med branchefolk. Efter konferencen var vi 20 stykker på cafe og snakkede om metoder for at tjekke fejllinks. Frank Hellerup Madsen kan ikke fornægte sin fortid med SEO, så han gik straks i selvsving og snakkede om et SEO-Tool der kunne scrape for døde links og koble sammen med URL (der let ses i AdWords Editoren). Morten Elm outsourcer meget, så han mente selvfølgelig bare en Filipiner kunne tjekke. Fede forslag, med meget forskellige vinkler. Hvad gør du?
Find og fjern døde AdWords link på ingen tid

,
Relaterede indlæg