Hvem er Webanalytiker Jacob Kildebogaard?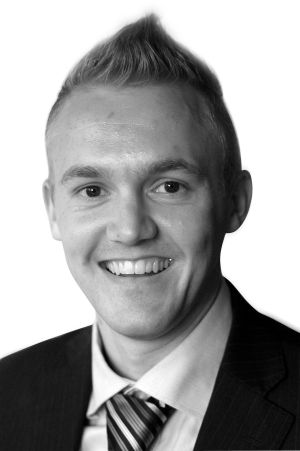 Ham webanalytikeren hedder i virkeligheden Jacob Kildebogaard. Jeg startede dette site tilbage i november 2008 fordi jeg savnede noget mere materiale og hjælp på dansk omkring webanalyse og værktøjerne. Siden da har jeg blogget om løst og fast, og set hvordan flere og flere ser potentialet i webanalyse.
Jeg har arbejdet med mange forskellige værktøjer, både Google Analytics, Yahoo! Web Analytics, Sitecatalyst og mange flere, og tester en masse værktøjer af på dette site. Sitet er både til for at dele de mange muligheder og for at give mig en "playground"

Udover at teste på dette site, så prøver jeg generelt ting af, fx Facebook annoncering, SEO-tricks mv, for at have erfaringen på egen krop, fremfor at lade kunden være testperson.
Jeg driver også sitet webanalyse-kurser.dk, Webshop Indexeringsprojektet GaBoost (med mere end 400 danske webshop tilmeldt) samt diverse andre projekter.
Kan jeg hyres?
Jeps, jeg hjælper dig meget gerne. Jeg arbejder som Analytics & AdWords chef hos Webjuice.dk (hvor jeg også er partner), og kan herigennem hjælpe dig. Jeg arbejder med optimering ud fra data, både konverteringsoptimering og AdWords optimering.
Send en hilsen på min kontaktside eller ring direkte til mig på 26 712 712, så giver jeg en kop kaffe

Mine artikler, blogs og bøger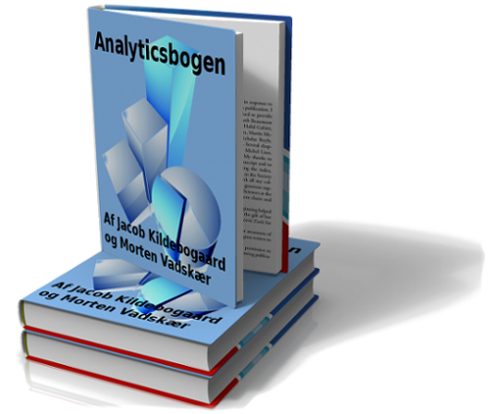 Der sker en masse indenfor webanalyse branchen, og jeg gør mit for at være med til at påvirke den. Når det gælder det skrevne ord har jeg lavet følgende:
Forfatter til Analyticsbogen - den eneste danske bog om webanalyse og Google Analytics. Skrevet sammen med Morten Vadskær.
Jeg er ekspertblogger på Computerworld.dk (Blogindlæg mere strategisk rettet)
Jeg er ekspertblogger på Amino.dk (i højere grad for "begyndere")
Jeg har gæsteblogget på flere større danske blogs
Citeret i artikel om webanalyse i Specialmediemagasinet
Citeret i artikel om Analytics og Ip anonymisering på Comon.dk
Udtalt mig i artikel på Markedsforing.dk omkring Google Engage.
Jeg blogger desuden også på jacob-kildebogaard.dk
Webanalyse foredrag
Derudover synes jeg det er fantastisk at holde oplæg og foredrag for at åbne folks øjne for de mange muligheder. Jeg har bl.a. holdt følgende oplæg:
Arrangør og taler til ConversionBoost.dk marts 2013
Arrangør og taler til PPCBoost.dk 2013
Arrangør af ConversionBoost.dk og SEOBoost.dk efteråret 2013
Hovedtaler til Web Analytics Wednesday i Århus og København
Oplægsholder til Digital Markedsføring i Holstebro i 2009 og 2011
Oplægsholder til MarketingCamp i København i 2012 og 2013
Underholdt om brugen af webstatistik i webstrategien som et led af et større forløb
Har været gæsteunderviser i Webanalyse (i faget Online Markedsføring) på IT Universitetet
Har været ekstern lektor på journalisthøjskolen
Har holdt oplæg for reklamebureauer
Har holdt oplæg til flere ERFA-grupper, både om måling af Intranet og om brugen af Webstatistik
Afholder to gange årligt den eneste webanalyse uddannelse i Danmark – på IBC i Kolding.
Underviser på linien Digital Diplom Uddannelse hos IAA.
Underviser 3 dage i Analytics på den 1-årige Online Marketing Manager uddannelse: http://omudd.dk/
og mange andre oplæg. Generelt synes jeg det er utrolig givende at komme ud og fortælle om alle mulighederne. Heldigvis er tilhørerne lige så begejstrede som jeg,  se fx disse tilbagemeldinger (vurderinger fra 1-5, hvor 1 er "meget dårlig/uenig", 5 er "meget godt/enig"):
Web Analytics Wednesday i København:
Det var fagligt relevant: 4,71
Han formidlede stoffet på en underholdende måde: 4,65
Jeg kunne tænke mig at høre ham igen: 4,57
Fra oplægget "Webstatistik i webstrategien":
Gæsteundervisers faglige viden og indsigt: 4,73

Samlet bedømmelse af gæsteunderviser: 4,55
Kommentarer fra oplæg til 60 kommunikationsfolk:
Oplægsholderen var super inde i stoffet og god til formidle det til os novicer. Stor ros til Jacob Kildebogaard.
Synes det var godt med kompetencen og foredragerens kontakt med publikum
Han var virkelig godt inde i sit stof, og jeg fik en del inspiration til selv at arbejde med tingene.
Godt formidlet, gode tips – bare for få af dem
Min baggrund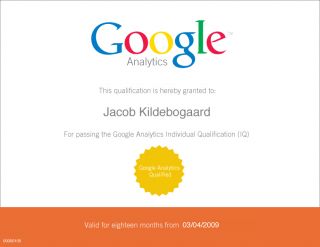 Jeg er uddannet Cand.Merc.(mat.), og før jeg gik fuldtids på webanalyse arbejdede jeg med medieanalyser for Berlingske og Mediehuset Ingeniøren. Jeg afsluttede studiet med et speciale om adfærdsbaserede brugeranalyser, hvor jeg benyttede Netminers systemet.
Jeg er certificeret Google Analytics Ekspert og har samtlige Google AdWords certificeringer (som en af de få i Danmark) samt den eftertragtede certificering fra Digital Analytics Association. Jeg er den eneste dansker der har alle de 6 certificeringer. Derudover er jeg certificeret Sitecore OMS Marketer.
Få mere viden
Hvis du vil have mere input end her på bloggen, så kan du finde mere viden følgende steder:
Twitter: @webanalytiker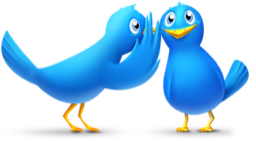 Facebook fanside:
www.Facebook.com/webanalytiker
Linkedin Gruppe: webanalytiker.dk
Og på Google+
Mit daglige virke
Til daglig er jeg head of Analytics & PPC. Jeg arbejder med bl.a. optimeringsanalyser, AdWords optimering, kurser og foredrag. Jeg holder til i København, men har kunder og holder foredrag i hele landet.
Referencer (et udpluk fra de sidste par år)
Matas.dk
Multikøb.dk
Olivers.dk
Kokken og Jomfruen
Amino.dk
aarstiderne.com
Ase A-kasse
Blockbuster.dk
Callme
CBB
Gea Niro
Posterland.dk
Realdania
FDM
Skat.dk
Videnskab.dk
Tivoli
QXL
Viviro.com
Københavns Universitet
Brøchner Hotels
Leo Pharma
Ferrosan
Advokatsamfundet
Brdr Dahl
Best Music
Billigsport24.dk
Bon A Parte
Bonnier Publications
Dansk Røde Kors
Miinto.dk
Danmarks Lærerforening
Dansk Kiropraktor Forening
Fitnessworld
Dansk journalist Forbund kreds 1
Danske Specialmedier
Ebusiness Fyn
Shakk.dk
Junkbusters.dk
Lingeributikken.dk
Matas.dk
Netcyklen.dk
Peter Justesen
Odense Kommune
Scandlines
Shampoo-pusher.dk
Tag-eksperten.dk
Replica-design.dk
Vil du vide hvad jeg kan hjælpe dig med? Så send en hilsen på min kontakt-side eller giv et kald på 26 712 712.